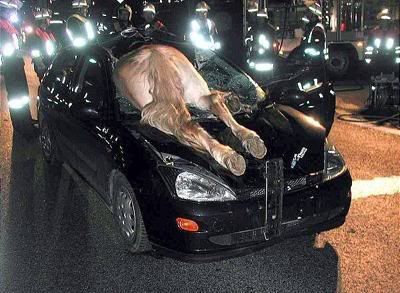 Can't end well. Or at least that's my theory. Three things prove my theorem:
1)
this picture
2)
that video from college
3)
last night's BBT event. Played well enough in the
Skillz
HORSE last night. Got lucky early when my JJ river setted against 88 and a flopped set. Got unlucky when I could improve in razz against a shorty and lost half my stack. Then got lucky when I 3 bet 245 against the same player with an 8 showing and they went 4 bets on 3rd. Later in stud go the resuck against trip dueces when he boated on 6th and boated on 7th, we both had trips on 4th, capped on 5th. I knew I was behind when his board paired on 6th but there was nothing I could do, I'm probably calling a river bet there even if I don't pair cause the pot is enourmous. Despite having a top 4 stack, I think I had 8 big bets when we hit the third iteration of stud8. That's the way things go. Demise was set when 6 handed 1K/2K Hold'em I got 88, raised, got 2 calls + the BB. Flop came 9 high rags, BB shorty bets, I raise and get smooth called behind. I should not have put another dime in after that. Check called a bet on the turn and folded river, just assanine there. Villian flipped over a flopped set of 4's and BB had a pair of 6's or 7's I forget which. Eventually went out 2 off the FT, some nice points and 4 bounties I think on the night. Not a bad night, was hoping for a FT and a decent cash but it was not meant to be. See ya tonight at the Moooooooooookie, all the way with an A and a J!