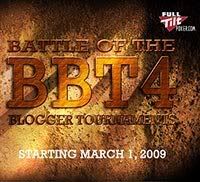 We here at Corporation Poker have gone off in three different directions lately. Snarf has been tearing up the BBT4, Snuffy has also been playing some BBT4, making a trip down under for pokers and has just started the King of the Hill challenge while I have been spending my time playing the PokerRoad League in addition to the PokerSlut Tour.
All of us have been making regular appearances at the PokerSlut Tour and the Poker Soup TV events while we broadcast on Poker Soup.
Both Snarf and Snuffy are making trips out to Vegas during the WSOP but I can't get out there this year. No, I'm not bitter. I lie. The rat bastards better have a horrible time. I kid. Not really.
If you haven't noticed, the WSOP has started. Full Tilt is once again running their mini-WSOP and the ever popular Fantasy WSOP Team League. I'm a huge fan of both of these but since FTP has seen fit to start most of these events late in the afternoon it's unlikely that I'll be able to play many of the events. The Fantasy League, on the other hand, is one of my favorite pastimes.
I'm in two different Fantasy WSOP leagues: FTP's and Ante Up. We drafted teams for the Ante Up league and I am happy with my team but wanted a few players that were picked before I could get to them. Justin Bonomo is a hot commodity this year. I fully expect him to tear it up at the WSOP. Too bad Snuffy drafted him before I could get him. I did get Erick Lindgren, Jeff Madsen, Micheal Binger, David Singer, Michael DeMichelle and Yvgeny Timoshenko.
I may not be able to play many of the mini-WSOP events on Full Tilt but I can make a good run at the Poker Road League season 2 which is also a mini-WSOP. I made it deep in the freeroll event finishing 153/9361 for a whopping $0.55, fml. The second event, the $40 NLHE, didn't go so well. Not many runners and several of them didn't even bother to show up on time. My starting table had 7 players of which only 3 where live. I sucks when you start out short handed. My AKs got out flopped by KQo on a KQx flop and I went out early on. What a waste. At least I have already won a season and they aren't offering new prizes this season but a repeat would look good on my resume' so don't count me out yet.